SOCIAL IMPLICATIONS OF AI & WAYS TO REGULATE
"The AI Now Institute at New York University is tackling the huge problem of understanding the social implications of AI technologies. AI Now works with a broad coalition of stakeholders, including academic researchers, industry, civil society, policy makers, and affected communities, to identify and address issues raised by the rapid introduction of AI across core social domains."
AINOW.PDF
SCIENTISTS CAN PREDICT HOW YOUR EYES MOVE
"Using precise brain measurements, researchers predicted how people's eyes move when viewing natural scenes, an advance in understanding the human visual system that can improve a host of artificial intelligence efforts, such as the development of driver-less cars."
ScienceDaily
Powered by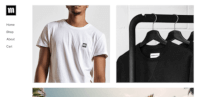 Create your own unique website with customizable templates.